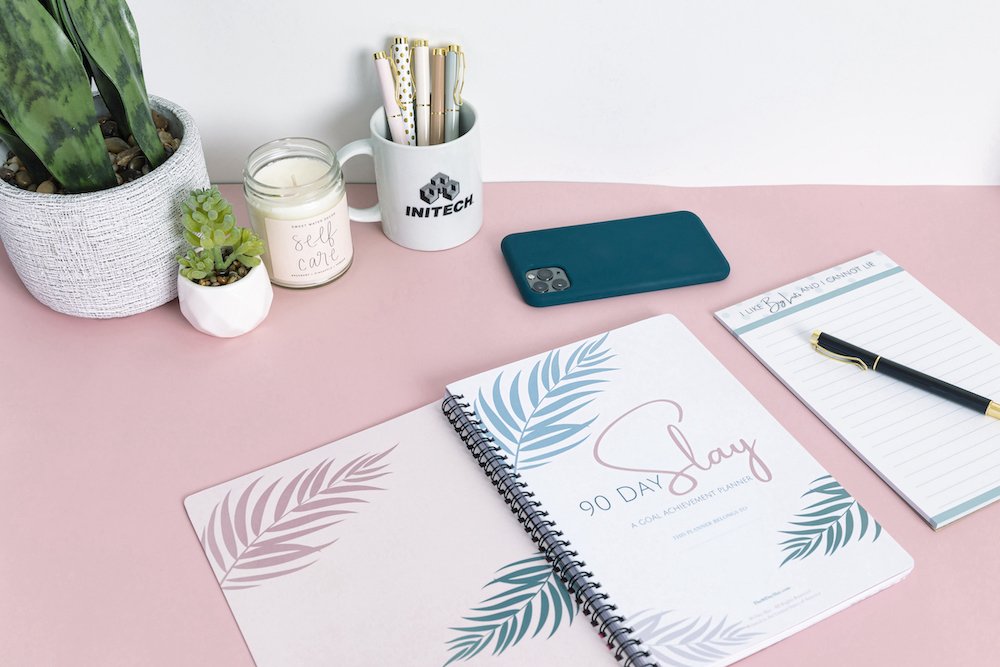 Your Goals: Achieved
Overwhelm: Banished
Achievement ≠ Burnout
If you're like me…
You have a passion to achieve some bigass goals, but not at the expense of your sanity and sleep.

You've tried eleventy-billion planners that were filled with You Go, Girl sentiments but no system that worked for you.

You've found yourself on the brink of burnout more than once.

You've tried one-size-fits-most and ended up filling in your habit tracker with random ideas or to-do items.
I couldn't find the planning tool I wanted, so I created it!
Introducing the 90 Day Slay Goal Achievement Planner
"Most planners are really expensive calendars. They don't help me organize my thoughts and execute on strategy like this does."
— Katie
Audit

Overwhelm and burnout happen when we neglect our core needs and focus our goals on how we show up in the world. By completing an audit of our contentment in key areas of out life before we set goals, we can ensure we are setting the right goals.

Brainstorm

Once you have clarity on where you are right now, you can brainstorm where you'd like to be in 90 days. During the brainstorm step, you also identify why that matters to you and what you aren't willing to do to achieve your goals.

Capacity

One of the primary reasons people don't achieve their goals is because they didn't accurately gauge how much time it would take to do the work needed. You can't cook a holiday feast in an hour. Before you set your goals, determine your capacity for the next 90 days.

Define

Create goals that can be achieved in the time you have available and are in alignment with your audit. If a goal cannot be achieved within 90 days, consider breaking the goal into different parts and focusing on one section that can be accomplished within 90 days.

Execute

Building a roadmap that outlines the weekly steps needed to achieve your goal takes the guesswork out of what needs to be on your daily task list. The emphasis is on productivity and not earning the Busy Badge of Honor.

Accountability

No one wants to wait a month to discover they are off track to meet their goals! Weekly accountability is built into the system with Looking Ahead and Looking Back sheets.
Friends don't let friends set outrageous goals and feel overwhelmed by the never-ending To-Do list.